A peek behind the scenes at...
A peek behind the scenes at the FAC workshop
Events - 08 March 2023
On 7 March 2023, the FAC organised the third edition of the 'Calibration of window and door fittings' workshop at Reynaers' headquarters in Duffel.
Read more
Together with a number of other FAC partners, Sobinco was in attendance at the event to give a workshop to a select group of fitters, site managers and foremen. The FAC members were divided into four groups and each was, in turn, given a workshop on window fittings, sliding windows, doors and door closers. For our part we dealt with the 'windows' component and demonstrated our Chrono Invision Pro, Go and Standard window fittings on both tilt-turn windows and french casement windows. The adjustment of some of our door hinges (Stiletto & Phantom/Saros) was also demonstrated.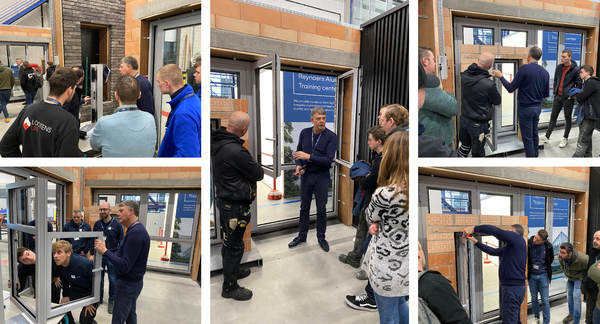 But what exactly is the FAC?
The Federatie Aluminium Constructeurs (FAC) is an association that represents the interests of quality-conscious businesses that are actively involved in the design, production and installation of aluminium windows and external wall elements. The FAC endeavours to give maximum support to its members through quality standards and in so doing attain optimum results for the end user. We are proud to have been the partner of the FAC for many years now!
When manufacturers satisfy specific quality requirements set by the FAC, they receive the FAC quality label as official recognition. In this way, architects, contractors, property managers, public institutions and suppliers can count on guaranteed levels of quality. Some manufacturers who maintain the very highest standards receive the FAC quality label and these are the manufacturers we collaborate with.
The FAC aims to promote a fair and honest way of doing business within the industry, where all players comply with the same rules and conditions. The ultimate aim is to deliver a quality product at a fair price that meets the wishes and requirements of the end user. In this way, the federation wishes to act as a counterweight to cheap foreign manufacturers who do not always meet the quality standards. And Sobinco can only applaud this, since we too hold top quality in high esteem.